About us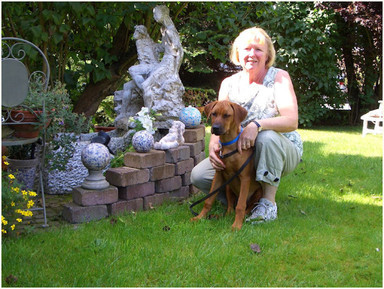 Since my early childhood I have been longing to breed dogs some day!  On a flight to West Africa, where I lived and worked together with my husband and two children at the beginning of the Eighties, I read an article by Prof. Dr. Grzimek (he lived and worked in Africa for many years). In the German magazine "Das Tier" he wrote about the Rhodesian Ridgeback and you could almost feel how much he adored and was fascinated by this dog breed. A portrait of a Rhodesian Ridgeback completed the article and I could never get it out of my mind. I developed the strong desire to call such a dog my own some day and to be able to offer him not only a home but also the ideal environment for living.
In 1989 my dream came true. Abeokuta Ajali from the kennel Abeokuta, owned by the breeder Jürgen Claus in Hamburg, moved into our house. Two years later Siji of Bo Kama from the breeder Henk Vermeulen  (Of Bo Kama/Netherlands) joined Ajali  and another two years later our pack was completed by Shika Kioja of Bo Kama. All three dogs were perfectly socialized and as a pack of dogs they have been the best imaginable "advertising campaign" for the breed Rhodesian Ridgeback.  In 1993 the first puppies in our kennel Tia Nanga have been born and each time a puppy sees the light of the day it deeply touches my heart.
In 2008 I found my current breeding bitch Babe Toffee Helya Ridge, called Nanga, in the kennel of the breeder Jana Helesicova in Czechoslovakia and took the plane to pick her up.
Nanga evolved into an incorruptible, elegant, very well socialized, gentle and charming bitch with a strong and calm character who harmonizes with man and animal. Together with my husband and Nanga I live in a small community at the boundary area of the Ahrvalley. We are nestled in fields, forests and meadows inviting us for long walks with the dogs.
Now we are looking forward to our second litter with Nanga and I will remain true to my thoughts about dog breeding and searching for the right stud dog. I do my very best to breed incorruptible and healthy dogs with exterior and behaviour typical for the Rhodesian Ridgeback.