Babe Toffee Helya Ridge (Nanga)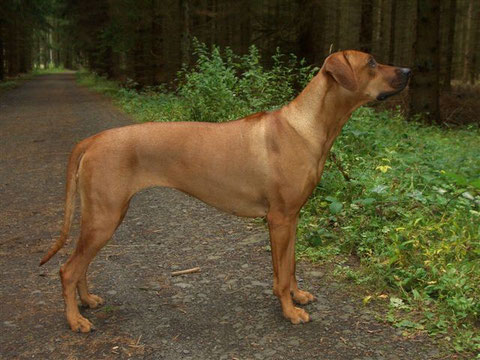 Our bitch Babe Toffee Helya Ridge

Given name: Nanga
Born: April 23, 2008
Hips: HDA 2, elbows: OCD/ED free
Dilute Status: DD (blue dilute free)
Neospora antibodies: negative
Hemophiliatest: negative
Size: 64 cm
Color: red wheaten
Scissor bite / full dentition
Conformation score: excellent
 
Breeder: Jana Helesicova Kennel Helya Ridge/Tschecheslowakei http://www.helyaridge.cz/
I would like to say thank you with all my heart to Nanga's breeder Jana because she placed her trust in me!  
 
Nanga is a sweet-natured, gentle and easy-to-handle dog. She has the "will to please"!
 
She loves to run and play around with other Ridgebacks – and is not even afraid of water! Her social behaviour is first class and she gets along perfectly with other dogs no matter of which breed or gender. Nanga is highly eager to learn and intelligent. She is multi-talented, loves seeking and sniffing games, likes to learn tricks and picks up everything on the floor with enthusiasm! We make obedience and are currently preparing Nanga for the companion dog test.
In March 2010 Nanga passed the breeding test without any restrictions at Club E.L.S.A.