Easter Monday, April 09, 2012 Day 7

Today the little Jambos "reached the age of one week"!
They are developing very well and are crawling across the whelping box with more and more "power". Mummy Nanga keeps refilling the milk bar – which keeps her very busy because the appetite of the Puppies is gigantic.  This is not without consequences – all of them doubled their birth weight.
For two days now Nanga dares to take a short break – which is maximum 15 minutes – to get some rest outside the whelping box.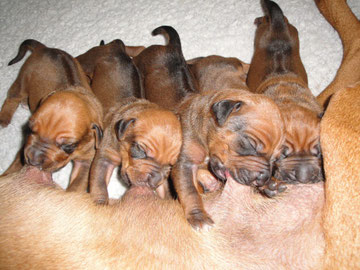 Juba (pink collar)
Jamal (red collar)
Tamu (silver collar)
Kiboko (light blue collar)
Ngoma (yellow collar)